Welcome to Iznajar on the Lake of Andalucia Spain
If you are looking for Property for sale in Andalucia then Andalucia Property estate agents, located in Iznajar on the 'Lake of Andalucia', offers a wide range of rural and inland property for sale in Iznajar, Andalucia and the surrounding area - one of the most beautiful areas of Spain. Whether country, village or town house, new build or ruin, we will endeavour to find exactly what you are looking for and offer total support through the entire process.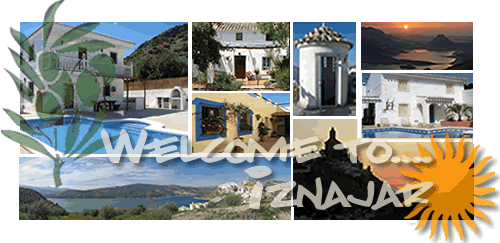 SEARCH our selection of affordable properties for sale in andalucia and find out more about WHO WE ARE, THE AREA and what APS SERVICES have to offer. We are experienced, friendly, reliable and trustworthy and if you have any questions, or enquiries about a property or an upcoming visit, please CONTACT US.
We offer a "Best Price Promise" If you see a property advertised at a lower price elsewhere
PLEASE LET US KNOW!!
As featured in

MAGAZINE
If you intend to visit and view properties we will be delighted to arrange ACCOMMODATION to suit your requirements, show you around and provide you with the advice you need. We want you to make the most of your stay in this truly stunning part of Real Spain.
English and Spanish speaking


Andalucian Property Solutions
Cierzos y Cabreras, 14970 IZNAJAR, Cordoba, Spain

Tel: 0034 957 534 830 Mobile: 0034 666 686 876

Email: This e-mail address is being protected from spam bots, you need JavaScript enabled to view it
SEARCH FOR PROPERTIES in Iznajar, Andalucia, Spain and surrounding areas including - Rute - La Celada - Aguilar de la Frontera - Cruz de Algaida - Fuente de Cesna - Fuente del Conde – Los Juncares – Jaramillo – Adelantado - Arroyo de Priego - El Higueral - La Hoz - Las Chozas - Lorite - Cierzos Y Cabreras – Cabreras - Villanueva de Tapia - Encinas Reales - Cuevas de San Marcos – Adelantado - Lucena - Los Juncares - Priego de Córdoba – Colmenar – Córdoba - Villanueva de Algaidas – Alfarnate

Andalucian Property Solutions - Estate Agents - rural and inland property sales and rentals: houses, villas, fincas, cortijos, farms, town and village houses, cave houses,

land, ruins and new builds in and around Iznajar, Andalucia, Southern Spain
Read more...